Management
We manage retired members of the intelligence community with their involvement with content creation and development in Hollywood.
We've teamed up with some of the most successful producers, directors, studio executives, agents, writers, and entertainment lawyers to build an organization designed to maximize your opportunities and the value of your intellectual property.
Find out if we may be right for you.
Consulting
We maintain the largest network of senior leaders in the intelligence community across the world.
If you need consulting support for a project ranging from cybersecurity to counterintelligence and counterterrorism, we either have the right person for you or will gladly connect you to the right person.
John retired in 2014 after a 28-year career in the Central Intelligence Agency's National Clandestine Service. At the time of his retirement, he was a member of the CIA's Senior Intelligence Service, the leadership team that guides CIA activities globally. John served multiple overseas tours as Chief of Station and Deputy Chief of Station in Europe, Asia, and in high-threat environments. He has significant experience working with foreign and domestic partners to solve national security challenges. John also served as a lead instructor in the CIA's clandestine training school, and was a regular lecturer at the CIA's leadership development program. He is the recipient of the Distinguished Career Intelligence Medal.
John is a sought-after foreign policy and intelligence expert. John speaks regularly on foreign policy and intelligence issues. His articles have been published in the New York Times, The Atlantic, Politico, Foreign Affairs, Newsweek, Slate, Lawfare, The Cipher Brief and Just Security, among others. He regularly appears on the PBS NewsHour, CNN, MSNBC, BBC and other outlets. Twitter: @john_sipher
Originally from upstate New York, Jerry was afflicted with a severe case of early onset Wanderlust. Leaving home at 18, he lived and studied in Germany, getting by as a waiter, doing construction, and taking odd jobs. An inveterate traveler, he spent years roaming Europe, Africa, South Asia, and the Middle East. He attended university in Austria, Germany, Mexico, and graduate school in Arizona.
Recruited into CIA, Jerry worked undercover as an operations officer for over three decades. He served, probably not coincidentally, back in Europe, Africa, South Asia, and in the Middle East as well as in numerous war zones. A four-time Chief of Station running some of CIA's largest and most critical missions abroad, he has relished the challenge of service to a greater good in the gray, blurred, and bleary borderlands between good and evil, right and wrong.
Jerry, to the extent allowed by CIA, is now dedicated to assisting a wider audience to take a hard, honest look at the real-world moral and operational imperatives confronting those still serving within CIA's honorable brother and sisterhoods of intelligence.
PETER SCHLESSEL,
Senior Advisor
Peter has had a traditional and entrepreneurial career in the entertainment industry. He has held senior roles at both Focus Features and Sony Pictures Entertainment. Peter co-founded and served as CEO of FilmDistrict which garnered over $500MM in box office on the movies it produced and was ultimately acquired by Universal.
Over the span of his career, Peter has produced, acquired or distributed hundreds of titles including Looper, District 9, The Theory Of Everything, Olympus Has Fallen and Insidious. Peter also was instrumental in working with Jeff Skoll on the founding of Participant Media. Peter recently joined the board of directors of Village Roadshow Entertainment Group.
DAVID HARVILICZ, Co-Founder,
Legal & Business Affairs
Dave has been an innovator in the launch and expansion of startup businesses for over two decades, including Kernel, an entertainment company that was eventually sold in 2016 to NBC-Universal. Kernel became well-known for distributing the movie THE INTERVIEW after Sony was hacked by North Korea. (add back the Deadline links)
In addition to serving as head of legal and business affairs for Spycraft, Dave currently serves as Vice Chairman of BlueVoyant, a global cybersecurity firm. Previously, Dave co-founded the cybersecurity firm Finite State, where he co-authored a report on Huawei 5G vulnerabilities which made headlines around the world and is currently the subject of multiple Congressional hearings. Prior to that, he lead corporate development at [redacted].
Earlier in his career, Dave worked as an M&A attorney in New York and venture capital attorney in Palo Alto. He is currently admitted to several state bars as well as the U.S. Supreme Court. Fluent in Russian, Portuguese, and German, he graduated with honors from William & Mary and NYU Law School.
GRANT VERSTANDIG, Co-Founder & Chief Strategy Officer
Grant Verstandig is the founder and CEO of Rally Health, Inc., a consumer-centric digital health company that develops tools that empower people to take control of their health care needs. Additionally, he serves as Chief Digital Officer for United Health Group (NYSE: UNH), a diversified health and well-being company with more than 270,000 employees worldwide, and which ranks #5 on the Fortune 500 list (2018). Grant has been leading United's digital health agenda since 2017.
Grant founded Rally® in April 2010, raising more than $55 million prior to United Health acquiring a majority stake in the business in 2014. Over the years, Grant and Rally have received numerous distinctions. In 2018, Business Insider included Grant on its list of 30 leaders under 40 in health tech who are using technology to shape the future of medicine. In 2013, the company was named one of CNBC's "50 Most Disruptive Companies"; one of the "Best Places to Work" by USA Today, Washingtonian Magazine; and the "No. 1 Healthiest Employer in Washington" by Washington Business Journal. In 2012, Grant was included on Bisnow's "40 under 30" list and in 2013, he made Forbes' "30 Under 30" list in science and healthcare. Grant is a founding member and director of the Greater Washington Partnership. He also serves as co-chair of the American Enterprise Institute's (AEI) National Council.
Grant took a nontraditional path to his leadership roles. He was studying neurobiology at Brown University when he went through a series of knee surgeries and began a long and frustrating journey through the health-care system. The experience ignited a determination in him to find a way to make health care easier and more accessible for everyone. He left college his sophomore year, and at age 21 founded Rally Health (previously Audax) with the singular focus to transform the consumer health and well-being industry. Grant lives in the Washington D.C. area.
MARC AMBINDER, Development Executive
Marc Ambinder is a development executive with Spycraft Entertainment. He brings 20 years of communications leadership and experience at the highest levels of national security journalism. In Washington, D.C., he was a White House correspondent and politics editor of the Atlantic. He's authored three non-fiction books, two of which have been optioned for television series. He now teaches at USC's Annenberg School for Communication and Journalism, where he is the executive-in-residence for digital security. He also consults for the Ronald Reagan Presidential Library on immersive educational and entertainment experiences. Find him on Twitter @marcambinder
RACHEL HARNER,
Development Coordinator
Rachel is an aspiring playwright and television writer learning all she can about the entertainment industry. At SMERSH, Rachel is helping develop our scripted content slate for TV and film and coordinating our content acquisition pipeline.
Originally from the state of Washington, Rachel graduated cum laude from Harvard University where she majored in English with a minor in Archaeology. After college, Rachel worked for CAA in New York and Mark Goffman Productions in Hollywood.
Advisors
(In Alphabetical Order)
Toomas Hendrik Ilves is an Estonian politician who served as the fourth President of Estonia from 2006 until 2016. Toomas worked as a diplomat and journalist, and he was the leader of the Social Democratic Party in the 1990s. He served in the government as Minister of Foreign Affairs from 1996 to 1998 and again from 1999 to 2002. Later, he was a Member of the European Parliament from 2004 to 2006. In 2017 he joined Stanford University as a Bernard and Susan Liautaud Visiting Fellow at the Center for International Security and Cooperation in the Freeman Spogli Institute for International Studies. Starting from July 2017, Toomas Hendrik Ilves is a Bergruen Fellow at the Center for Advanced Studies in the Behavioral Sciences, Stanford University; Distinguished Visiting Fellow at the Hoover Institution; Adjunct Scholar, Global Digital Policy Initiative, Center for Democracy, Development and Rule of Law, Freeman-Spogli Institute, Stanford University. He also belongs to the advisory council of the Alliance for Securing Democracy. E-mail: thilves@Stanford.edu
Paul served 25 years as an operations officer in the CIA. He was a member of the Senior Intelligence Service and is a recipient of the Intelligence Medal of Merit and the Distinguished Career Intelligence
Medal. Paul's assignments included posts in the former Soviet Union, the Balkans, Southeast Asia, East Germany, and Southern Africa. In course of his career, he served as Station Chief and in a variety of senior operational leadership and training roles.
Spencer retired from the Central Intelligence Agency in 2017 after a career spanning three decades. He was a member of the CIA's Senior Executive Service, and he served six foreign field tours in Europe and Asia. He was Chief of CIA's Europe Department and was twice a Chief of Station. He was Deputy Chief of CIA's Global Deployment Center and both a Chief and Deputy Chief of Departments in CIA's Counterterrorism Center with a scope of responsibility that included technical intelligence and oversight of operations in some of CIA's most challenging foreign field environments. He was a two-time Chair of the CIA Directorate of Operations' premier leadership seminar and a regular senior lecturer for other CIA leadership training programs. He believes that the art of intelligence is necessarily a creative endeavor, and he spent much of his CIA career as an innovator and leader of next-generation spycraft. Spencer is a linguist, an oil painter, a martial artist, and a writer who still doesn't understand why everyone doesn't advocate the Oxford comma. Offer to talk about Tolkien, Hugo, Dickens, or Dostoevsky, and he's in. Play something from Close to the Edge or Tales from Topographic Oceans, and he'll listen. He has been married 35 years to the love of his life, and they have three children and one grandchild.
Michael Steed is the Founder and Managing Partner of Paladin Capital, and serves as Chairman of the Paladin Cyber Fund and Paladin III Investment Committees. Mr. Steed provides management oversight of the firm's operations and investments, and is responsible for the Paladin's strategic direction. Prior to forming Paladin Capital, Mr. Steed served as Senior Vice President of Investments of a major financial services company based in Washington, DC, and served as President of its SEC registered investment advisory firm.
From 1981 to 1985, Mr. Steed served as Special Counsel to the Chairman and as the National Director of the U.S. Democratic Party (DNC). Mike serves on the Board of Trustees of Loyola Marymount University. He is also a member of the Board of Visitors for Duke University's Sanford School of Public Policy and is a founding board member of the National Democratic Institute for International Affairs (NDI) and is a member of the Board of National Alliance to End Homelessness and The National Park Trust.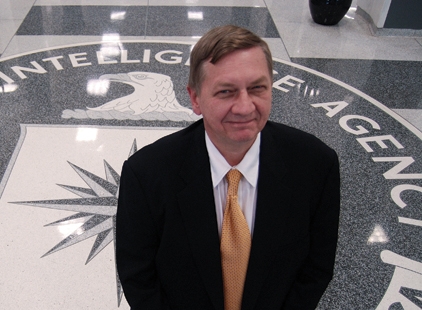 Michael J. Sulick is an American intelligence officer who served as Director of the U.S. National Clandestine Service from 2007-2010. Mike, who grew up in the Bronx, studied Russian language and literature at Fordham University and later earned his Ph.D. from the City University of New York. He also served as a Marine during the Vietnam War. Mike joined the CIA in 1980. He was stationed overseas throughout his career, in Eastern Europe, Asia, Latin America, Poland, and Russia. Sulick served as the senior CIA representative in Russia and Poland, Chief of the Central Eurasian Division, and Chief of CIA Counterintelligence. He is also the author of two books on Espionage, "Spying in America" and "American Spies," both published by Georgetown University Press.
Douglas retired from CIA in 2016 as the Deputy Director of the Defense Intelligence Agency. At DIA, Doug was the Chief Operating Officer for a 20,000 employee, global defense enterprise supporting senior Defense and National policymakers and the war fighting commands. Prior to his assignment at DIA, Doug served nearly thirty years with CIA's Clandestine Service. He had the privilege of leading several of the Agency's most important components at CIA Headquarters and in the field. In the course of multiple field assignments, Doug served four times as a Chief of Station, including a tour as a Chief of Station in a war-zone location that was then the largest field station in the Agency's history. He was also the CIA's Chief of Operational Training, and served as a senior leader in two of CIA's largest multi-agency centers, the Counterterrorism Center and the Cyber Intelligence Center. He served multiple tours of duty in Afghanistan and Iraq, and in assignments in Europe, the Balkans, the Middle East, South Asia and East Asia. He currently serves on a number of corporate boards, provides management and leadership coaching and mentoring to the leadership teams of large corporations, high net worth clients, a DOE laboratory and teaches a course at the University of New Mexico.
Silvia regularly represents motion picture studios and television networks as well as entrepreneurial clients on a wide range of corporate transactions, including company formation and structuring, acquisitions, partnerships, joint ventures, strategic alliances, financings, and dispositions.
O'Melveny has been synonymous with entertainment law since Hollywood's Golden Age in the 1930s. For decades, the firm has helped major players in film, television and cable, production and distribution, the Internet, video games, music, finance, investment, and dozens of household-name performers successfully tackle groundbreaking deals and high-profile disputes.
University of Michigan Law, J.D.: cum laude;
Michigan Law Review
University of Bologna, Ph.D., Philosophy: highest distinction
University of Bologna, B.A., Philosophy: summa cum laude